First, we recommend checking to see if you are eligible for an advance.
If you are eligible for an advance but see you are unable to request any funds, here may be why:
Max Limit

When you have reached your limit, you will receive an error message stating Pay period max reached.

We allow an advance of up to 50% of your projected earned wages in a pay period, and up to $1,000.

When calculating this limit we look at the hours that your employer has sent over to us in the current pay period, your hourly rate, and if you have any outstanding advances.

This limit adjusts throughout the pay period as you work, so if you are unable to take an advance one day, we recommend checking back once more hours have been submitted.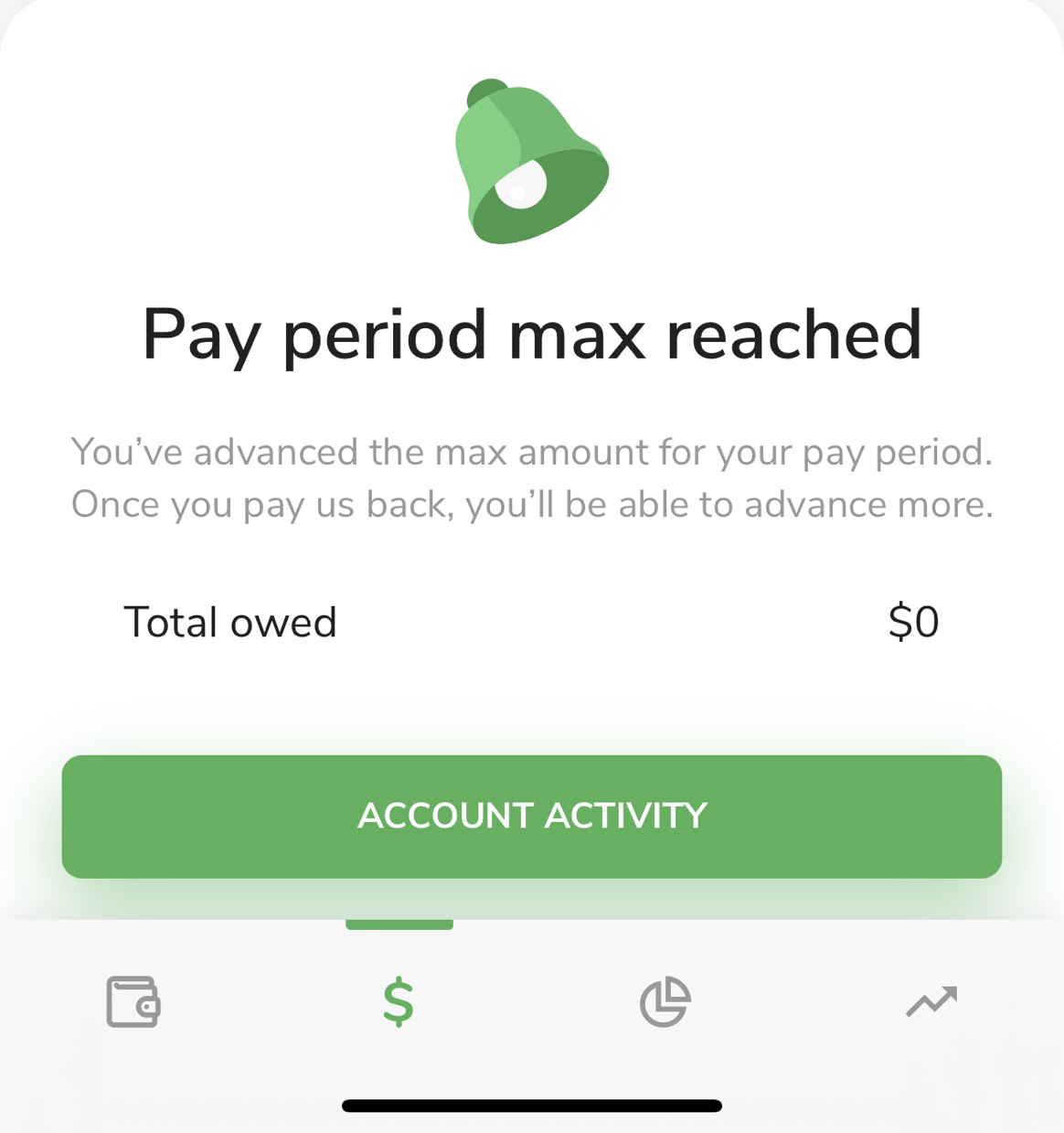 Employer Verification Needed
To qualify for an advance, you must be verified on your employer's roster.
We receive roster information from each employer daily, and if your name appears on that roster you will be automatically verified. However, on occasion some names can be left off the roster that we receive, so you could be removed from your organization.
If you are getting an error message saying Employer verification needed you will want to check with your payroll administrators to make sure that they have included you in the most recent roster.
As soon as we receive a roster with your name on it, you will automatically become verified and you will be able to request an advance if you meet all other qualifications.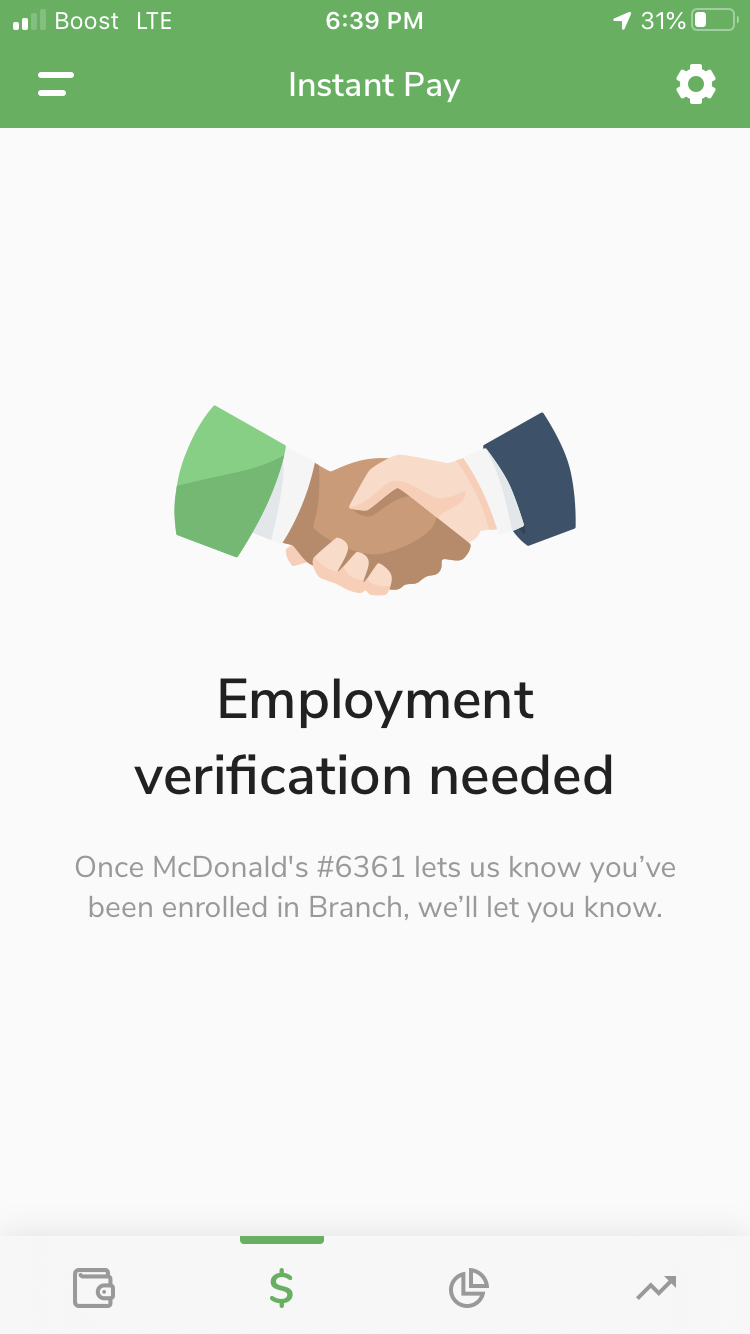 Missing Direct Deposit

If you see the error message saying Your direct deposit seems to be missing, it does not necessarily mean that your direct deposit isn't set up in your Branch wallet.
For certain organizations, depending on how the advances are paid back, you must have at least 65% of your direct deposit going to your Branch account.
We base this percentage on your projected earned wages based on the hours and hourly rate that your employer sends us.
When you get an error message about your direct deposit not being detected when trying to request an advance, it just means that our system has not detected 65% of your expected direct deposit amount from the previous pay period.
This can happen due to tax deductions, or garnishments being taken out. We cannot override this, but if you believe we are calculating this incorrectly, please reach out to us here.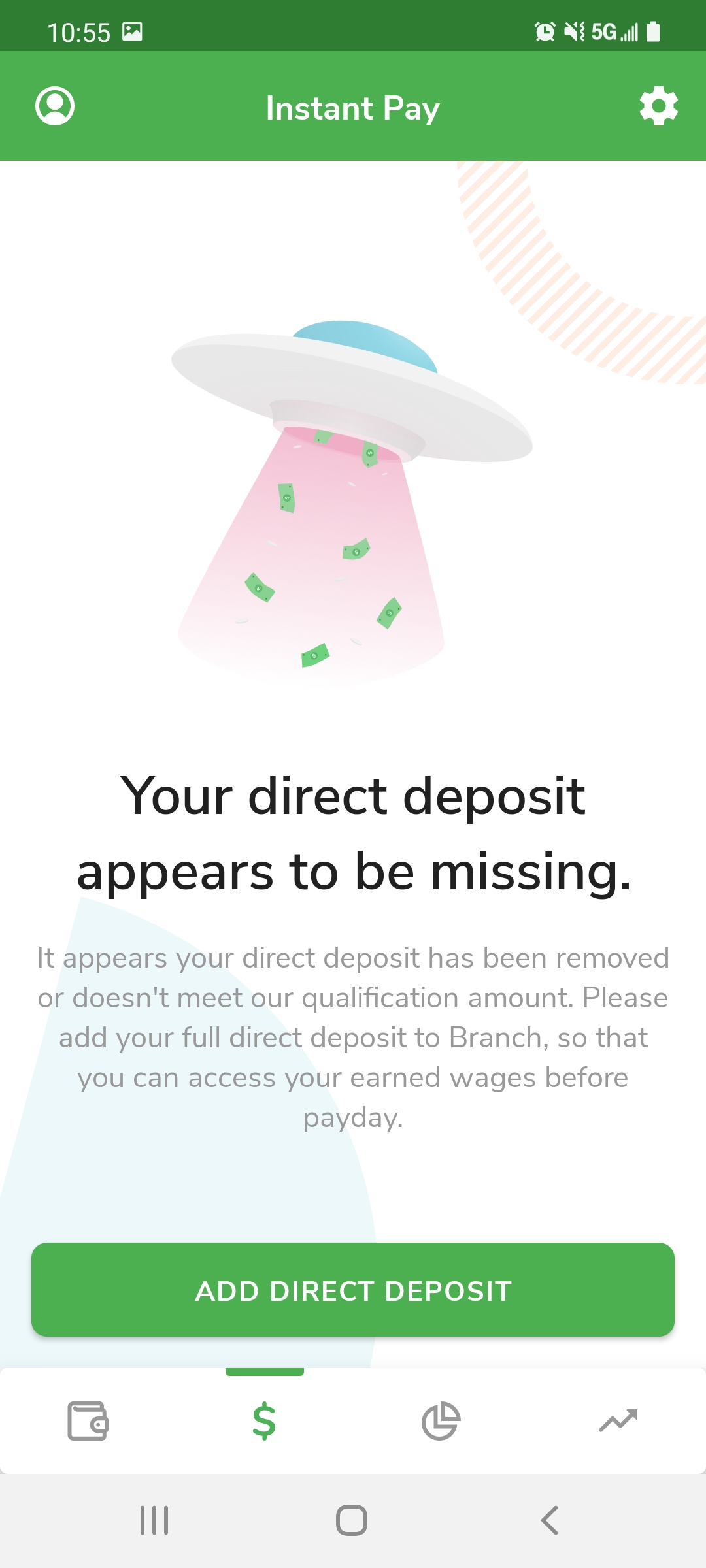 Missing Hours

Most employers send us a file every morning that contains time and attendance data from the past few days, and every so often that file may not include hours for a user.
If you get an error message stating that there is No time and attendance data, please first reach out to your HR/payroll/supervisor and they most likely can figure out why you were not included in the recent files. We are unable to override these hours, so making sure that the information has been sent over is the best first step.
If your HR/payroll/supervisor can send the missing information over, please know that it can take 24-48 hours for that information to update in our system and reflect in the app.
If they confirmed that they have sent us all your recent hours and your account does not update within that time frame, please reach out to us here.