A pending transaction is a transaction that has been initiated or pre-authorized but has not been completed.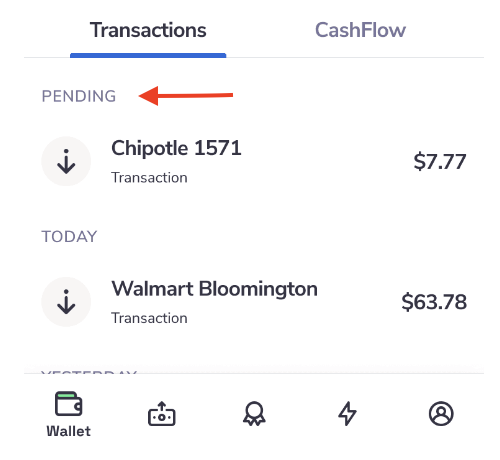 Pending transactions appear at the top of your Transactions list under "Pending"
Why Pending Transactions Happen
Merchants can initiate pending funds to ensure you're able to transact the final amount, such as with gas.
If a transaction is in a pending state and hasn't cleared within the same business day, this likely means it was actually declined and will be returned to your account in due time.
Most merchants will reimburse pending transactions within 1–3 business days. However, if the reversal by the merchant doesn't work, our bank will hold the transaction for a given timeframe depending on the type of merchant:
Gas Station: Up to 3 calendar days

Transactions will usually post within 3 days but, depending on the merchant, can take 5 days or longer.

Everyday Purchase: Up to 9 calendar days
Hotel or Travel: Up to 15 calendar days
Tips on Avoiding Pending Holds
Avoid problematic vendors

Some gas stations (including Circle K and QuikTrip) have longer and higher pending gas holds than others.

Pay for fuel inside

By paying inside, you'll avoid the pending holds being placed on your account.
Once the Pending Hold is Released
Once a pending transaction is released, you will no longer have visibility of the pending transaction in your app.

When a charge is pre-authorized and then canceled, the merchant never truly receives the funds. In this case, the funds are held until the merchant notifies our bank that the transaction was canceled. Then the funds are released.

This works differently than a refund, as with a refund, the merchant receives the money and then sends it back. This is why with refunds you will see the original transaction and the refund listed.
Important to Note:
If a debit card transaction was declined, but you still seeing it pending on your account, please reach out to the merchant to make sure that this was declined and see if they can release those funds to you. If the merchant says they have released funds, most of the time you'll see this pending transaction be canceled in one to three business days.
Related Articles: